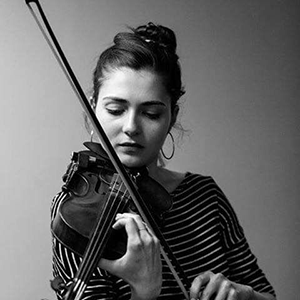 Alexa Torres views the violin as a genre-transcending instrument and has explored a diverse array of musical paradigms including classical, Latin American pop, jazz, Manouche, and Arabic violin. She has toured Europe, the United States, Mexico, Australia and Chile and has performed with big names in the Latin American music scene, including Latin Grammy-winner Mon Laferte. She began her classical training with the Suzuki method under the direction of Joanne Bath – student of the violinist Yehudi Menuhin, and one of the founders of the Suzuki method in North America. Later, she studied at the University of the North Carolina School of The Arts under the direction of Kevin Lawrence – student of Ivan Galamian and alumnus of Julliard. She completed her classical training with Vincent Fritelli – former student of Curtis, and also a student of Galamian. In the continuing years, she has studied Arabic and jazz violin with a number of private instructors, in addition to exploring a wide range of Latin American styles. She is currently pursuing a masters in jazz violin performance at UNT under the direction of Scott Tixier – a Grammy award-winning, internationally renowned jazz violinist.
Alexa has participated in numerous orchestras, symphonies, chamber music groups, jazz groups, and other popular music ensembles. In 2009, she performed at Carnegie Hall with the McCallum Orchestra and she toured Europe with the Noise Revival Orchestra in 2011. Until recently, she was based in Santiago, Chile where she worked as a freelance violinist and vocalist and maintained a private studio. She participated in a number of ensembles, including the experimental jazz-fusion group Ensemble de Luz, and performed regularly in Santiago's jazz clubs and theaters as well as private events such as weddings. Recently, she moved back to Texas where she plays events, clubs and major hotels. Since moving back, she has performed regularly with her group, Alexa Torres Quintet, at the Elephant Room in Austin and other venues.
She has extensive teaching experience, and first began teaching in 2006 at Arendell Parrott Academy. In Santiago, Chile, Alexa maintained a private studio and taught private and group lessons for three years. She has experience employing a more traditional, Western classical methodology in her teaching, as well as methods which explore varying musical paradigms such as jazz, improvisation and "world music." Alexa believes in an individually-tailored approach to teaching which considers each student's unique interests, strengths, needs and learning styles.
Individualized Lesson Plans
Learn with a customized music curriculum designed to fulfill your goals
Choose to test on a State or International level
Perform at private recitals or Festivals