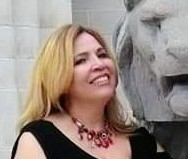 Violinist Jacqueline Baez, completed a Bachelor's of Music from the Autonomous University of Santo Domingo. She graduated with Summa Cum Laude. After graduation, she became a professor at the university and was recognized as a Professor Emeritus. Later, she obtained her Master's degree from Texas University in Violin Performance.
Mrs. Baez enjoys a career as an orchestral musician, chamber musician, and teacher. She currently teaches in Frisco ISD, in her private studio and frequently subs with area orchestras such as Irving Symphony, Plano Symphony and San Angelo Symphony.
Mrs. Baez has performed in the Caribbean, Europe and North America including Alice Tully Hall and Aaron Davis Hall in New York. She also performed in Spain with the Orchestra and choir of the Spanish Radio-Television. She has participated in concerts at the First Cathedral of America, National Theater of Puerto Rico and Dominican Republic. As a soloist, she has participated with the Autonomous University Chamber Orchestra and the Gocessa Symphony Orchestra.
Mrs. Baez has collaborated extensively with world-renowned artists such as: Placido Domingo, Andrea Bocelli, Il Divo, Michael Camilo, Juan Luis Guerra, Paloma San Basilio, Pedro Eustache, Maxin Vengerov, Leonidas Kavakos, Sarah Chang, among others. She has also collaborated in important festivals such as the Santo Domingo Music Festival and the Festival of Youth Symphony Orchestras in Puerto Rico.
Individualized Lesson Plans
Learn with a customized music curriculum designed to fulfill your goals
Choose to test on a State or International level
Perform at private recitals or Festivals