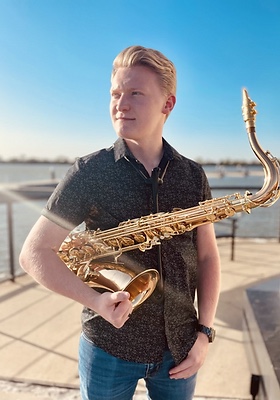 Saxaphone, Flute, Clarinet, Piano, and Music Theory
Mason Fuller is a saxophonist, teacher, and composer based in Dallas, Texas. He received his Bachelor's degree in Jazz Performance with a Concentration in Saxophone from Texas State University under the tutelage of Dr. Russell Haight.  
 
Mason grew up surrounded by the music of his Dad's rock cover band. He would often travel with them to gigs and sit on rehearsals. He started his musical journey at 11 years old in his middle school band program, initially wanting to be a percussionist like his father. Mason made the switch to saxophone due to an over abundance of percussionist, and started studying jazz a few years later at the age of 17. 
 
Since then he has taught and performed in the Dallas and Austin areas and when he isn't teaching, he's touring the country as a professional saxophonist and entertainer. He's a recipient of the Louis Armstrong Jazz Award and has an extremely diverse musical background that has allowed him to play many varying musical styles such as classical, jazz, rock, pop, funk, latin, and more! He's also collaborated with word class musicians like Brian Bromberg, Greg Bissonette, and Butch Miles from the Count Basie Orchestra.
 
He also is proficient in doubling and is capable on a number of additional instruments including the flute, clarinet, advanced music theory and piano.