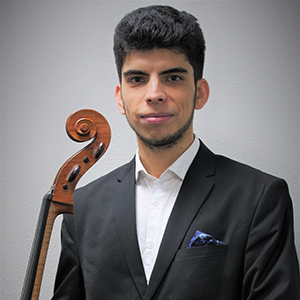 Described by the Chilean Newspaper, El Centro, as "a bright young talent", Chilean cellist Patricio Gutiérrez has performed as a chamber musician throughout Southern Chile as well as Ontario, Canada. His most recent appearances include concerts at Wilfrid Laurier University, Perimeter Institute, Waterloo (Canada), Abate Molina Hall at Universidad de Talca (Chile), Mazzoleni Hall and Koerner Hall at the Royal Conservatory of Music (Toronto).
A dedicated cello instructor, Gutiérrez has taught in several youth orchestras in Maule and Bio-bio regions in Chile between 2009-15, recruiting many young cellists to the music programs. He is also an active arranger, organizing pieces for cello duets, trios, quartets and string ensembles.
Born into a non-musical family in Santiago, Chile, Gutiérrez began studying classical guitar at the age of eight and switching to cello at the age of ten. Patricio graduated from Universidad de Talca in 2012 under the guidance of Alejandro Tagle. In 2013 Patricio was the recipient of the Universia Scholarship of Santander Bank in Chile due to his academic achievements. This Scholarship allowed him to spend one semester as an exchange student at University of Connecticut, taking cello lessons with Katie Schlaikjer.
In May 2018, Patricio graduated from The Glenn Gould School of the Royal Conservatory in Toronto where he finished his Artist Diploma, working with both cello teachers Desmond Hoebig and Andrés Díaz. Currently, Patricio is pursuing his MMus in cello at Southern Methodist University under the guidance of Andrés Díaz. An avid baker and enthusiastic mountain biker, Patricio enjoys nature and food as much as practicing cello.
Individualized Lesson Plans
Learn with a customized music curriculum designed to fulfill your goals
Choose to test on a State or International level
Perform at private recitals or Festivals