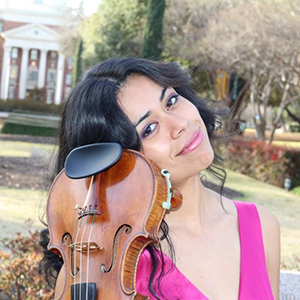 Sara Rodriguez is a Honduran-born freelance violinist based in Dallas, TX. A graduate of The University of Southern Mississippi where she earned her bachelors, and Baylor University, where she earned her masters in music performance. Sara has been a student of Dr. Stephen Redfield, Dr Bruce Berg, and Professor Julia Bushkova.
Sara has extensive background in performance, and has appeared with several orchestras in the United States, including Mobile Symphony Orchestra, Pensacola Symphony Orchestra, Baylor Symphony, Waco Symphony Orchestra, San Angelo Symphony Orchestra, and also serves as a sub for the Plano Symphony Orchestra. Her collaboration with these orchestras has given her the opportunity to share stage with well known artists including Itzhak Perlman, Joshua Bell, Placido Domindo, Nadja Salerno, Sir James Galway, among others. Sara holds an extensive background in chamber music, and has joined numerous summer festivals including Masterworks Music Festival, Northen Lights Music Festival, Hot Springs Music Festival, Miami Music Festival and others. Her awards and accomplishments include winner of the 2004 young artists competition in Tegucigalpa Honduras, her hometown, and also received the Honorable Achievement Award at The University of Southern Mississippi in the spring of 2009. She has also appeared as a soloist with the Orquesta Filarmónica de Honduras, where she performed the Mendelssohn violin concerto in E minor, under the direction of maestro Carlos Amat.
Sara also shares a passion for teaching and has helped many students in the DFW area with their school examinations, auditions, and competitions. She currently works as a private violin and viola instructor with Plano ISD.
Individualized Lesson Plans
Learn with a customized music curriculum designed to fulfill your goals
Choose to test on a State or International level
Perform at private recitals or Festivals