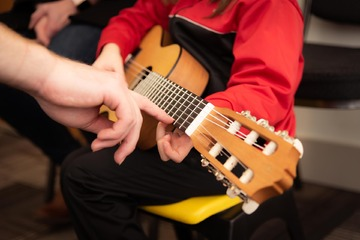 One on one private music lessons offer students of all ages the benefits of having 100% teacher's attention. The best age to start learning a musical instrument or singing is six years old.
During the private sessions, our highly trained and experienced teachers will teach you everything from note reading, to proper posture, oral skills, music theory, expressive intonation, solid rhythm foundation and many more aspects related to music performance.
Throughout the whole year we offer several chances for our students to participate in festivals, competitions, contests, and theory tests on a state, national and international level. In addition, our school hosts two large recitals in December and May. Most of our teachers hold a Masters Degree and/or PHD in Music Performance or Music Education. In addition, our teachers have extensive experience in music teaching, some as long as 30 years of mentoring music students.
Individualized Lesson Plans
Learn with a customized music curriculum designed to fulfill your goals
Choose to test on a State or International level
Perform at private recitals or Festivals